Perfect for acclimatization and a quick view of the area.
Tourist circuits that will allow you to know and enjoy thousands of year-old cultures, history, geography, traditions and customs, beautiful lagoons, micro climates and its main cities of Callejón de Huyalas and Conchucos. All this in modern buses and under the direction of one of our professional guides.
Season: All year round, recommended between April to October.
Duration: Each circuit takes a full day.
Difficulty: easy.
Here are some routes that have been developed over many years: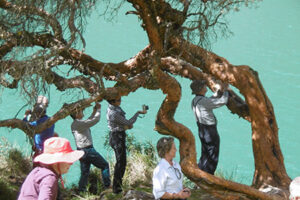 Llanganuco Lake (3850 meters)
We started the tour in Huaraz after breakfast, heading north of the Callejon de Huaylas our first stop is the village of Anta, an ideal place to observe several peaks of the Cordillera Blanca, the next stop will Carhuas, Mancos and Yungay.
After visiting the cemetery of Yungay, buried by an avalanche in the 1970 earthquake town, take the detour north to enter the Huascaran National Park and visit the gorge of Llanganuco and turquoise lagoon water "Chinancocha" then remain adequate time we return to Yungay, after lunch visit the last city of Callejon de Huaylas "Caraz".
Return to Huaraz without before stopping at the craft center Tarica.
Departure: 9:00 a.m.
Return: 7:00 p.m.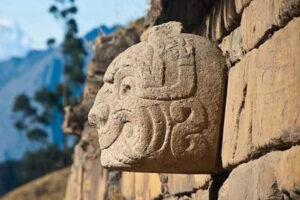 Chavin (3150 meters)
Huaraz We left right after breakfast, heading south past the village of Recuay, Ticapampa Catac. In Catac take the detour to the east up to the Cordillera Blanca and Huascaran National Park, after visiting and walking for a few minutes in the lagoon Querococha continue the journey to the Tunnel Cahuis where we spend the Callejon de Huaylas to the Callejon de Conchucos by an impressive tunnel located at 4200 meters; after a stop and take pictures we will, star to go down into the valley through the towns of Tambillos, Machac, Quercos and finally reach the village of Chavin.
The archaeological monument is located near the town in mention, once visited the archeological monument, museum site under the direction of the guide and after lunch we return to Huaraz.
Departure: 9:00 a.m.
Return: 7:00 p.m.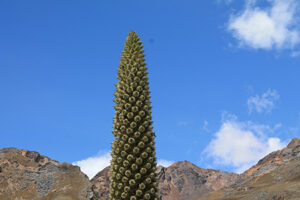 PASTO RURI (5180 meters)
We started the tour in Huaraz taken the road between Lima – Huaraz, visit towns like Recuay, Ticapampa, Catac, in this town we stop to drink coca tea to help counteract altitude sickness, then continue to Pachacoto where we leave the track to Lima to go towards the White Mountains, after stopping, walk around and take pictures in the Patococha lake, aerated water, Puyas Raymondi and cave Painting.
we drive to the base of the snowy field located 5000m; where we star to walk for 50 minutes to the glacier, after spending the necessary time, taking thousands of photos to snow and frozen lake we returned to the car and then to Huaraz
Departure: 9:00 a.m.
Return: 6:00 p.m.